Amtran School Bus Window Parts


Looking for Window Parts for an Amtran School Bus? We don't provide the window, but with the following information we can help with some of the parts!
1. Year model of bus, and passenger capacity
2. Bus chassis - IH, Ford, Freightliner, Vision, GMC, Chevrolet, etc.
3. Body type - conventional, flat nose transit, van, etc.
4. Description of the window part, what part "does"
5. Any part numbers you may have
6. Last (8) digits of the VIN number, and body number, if possible


The following catalog page will help you find the parts you need to get your windows
back in service again.

Click here to enlarge
LK1279 (Plastic Thumb Latch LK2280 (LH Latch Bolt) LK2281
(RH Latch Bolt) LK2282 (Spring no longer available)

LK4888 (RH latch) LK4889 (LH Latch) LK4891
(Spring) LK4890 (Block) LK4378 (Pin)
LK1530

(Emergency Window Handle)

LK2246

(Switch)

Vintage Amtran Window Parts
This Emergency Window Handle is no longer available. Switch Part No.
LK2623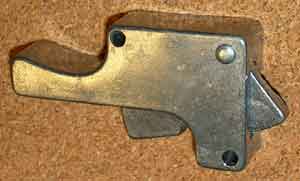 This latch is no longer available.
More Info on Window Parts
Click on any of the following links:

Window Parts - Main Page

Blue Bird

Carpenter

IH-IC

Superior

Thomas

Vision

Ward

Wayne

Click here for product index page
Call us toll-free at 800/960-1960