Superior School Bus Parts







1. Year model of bus, and passenger capacity
2. Bus chassis - IH, Ford, Freightliner, Vision, GMC, Chevrolet, etc.
3. Description of the part, what part "does"
4. Any part numbers you may have
5. Last (8) digits of the VIN number, and body number, if possible


Info About Superior
For over fifty years, Superior was a leading supplier of school bus bodies, but that all changed when Superior closed its doors in 1980.
We still have all the old Superior parts books, wiring diagrams, and other information that's helpful if you're working on a restoration.
Superior built the Type C conventional bus body right up until they shut down in 1980.
Many of the parts for these bodies are still available.
Body panels are no longer in stock, but many other items are still in our warehouse.
Superior built only a few of these Type B buses on GM Step Van chassis.
Many of the same body parts that fit the larger conventional buses will fit this smaller bus.
Parts for the chassis are very difficult to obtain because GM sold their Step Van production to another manufacturer who then re-sold it to yet another company.
Only a handfull of these Type D rear engine and forward control buses were ever built by Superior.
Most of the chassis were made by International, so a few of those parts can still be found.
Some body parts are still available and substitutes can be provided for many of the items that have been discontinued.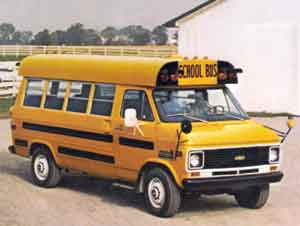 Superior built a large number of these small van conversions.
When the company went out of business, the tooling and technology was sold to Mid-Bus who continued production for many years.
Click here for product index page
Call us toll-free at 800/9
60-1960