Engine Cooling System Parts

Looking for Water Pumps, Radiator
Coolant Tanks, or other items related
to "engine cooling" on a school bus?
Call us toll-free at 800/960-1960
School buses have parts that are different from other vehicles.
Our library and database have thousands of listings for
engine cooling parts, radiator tanks, fan clutches, belt tensioners,
and many other items that are hard to locate.
Please have the following info available to make sure
you get the correct part:
1. Year model of bus and passenger capacity
2. Bus chassis - IH, Ford, Freightliner, Vision, GMC, Chevrolet, etc.
3. Engine model - Cummins 5.9, Cat 3116/3126, DT-466, GM 366, etc.
4. Part description -where it's mounted on the bus....what part "does"
5. Any part numbers you may have
6. Last (8) digits of the VIN number


Cooling System
Parts
Catalog Page
Click here to enlarge
Click here for more surge tanks
Click here for troubleshoot videos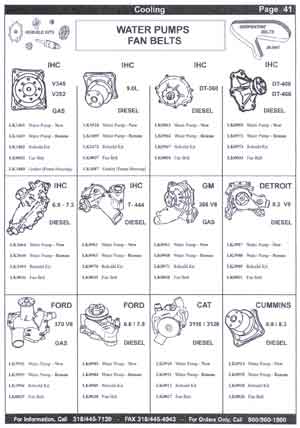 Water Pumps / Fan Belts
Catalog Page
Click here to enlarge
Click here for water pump page
Click here for troubleshoot videos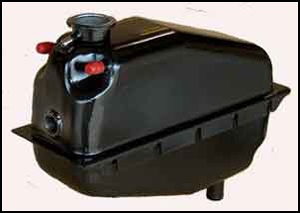 Part No. LK3811
IH or Freightliner
Steel Surge Tank
Part No. JK1945
Freightliner
Steel Surge Tank
(Note low coolant Sensor
Port on lower side)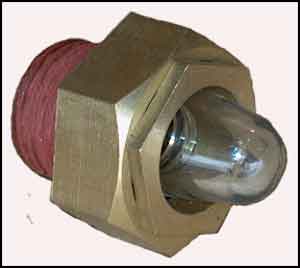 Part No. JK1372
Replacement Sight Glass
Solid Brass
(Equipped with
Viton O-Ring)
Part No. JK4252
Blue Bird
A3RF Rear Engine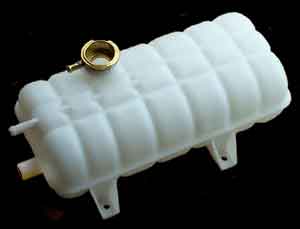 Part No. JK4763
Spartan Chassis
with Carpenter Body

Part No. LK4462
Ford B600 - B800
Coolant Recovery Tank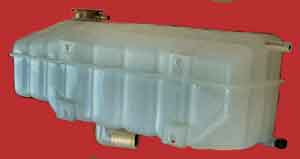 Part No. JK3138
GMC Tank
1993 & Newer
Part No. JK1893
Ford 1992-98 B600 - B800
(Cummins Engine)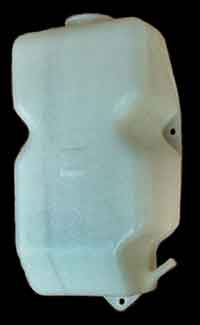 Part No. LK5874
IH Coolant Recovery Tank
(Used on Older model with V345
or V392 Gas Engine)
Part No. LK9150
Ford 1992-95 B600 - B800
(Cummins Engine)
Additional Info on Cooling
Click on any of the following links

Coolant Tanks

Fan Clutches / Belt Tensioners

Water Pumps
Troubleshoot Videos
Call us toll-free at 800/960-1960