Roof Hatches


If you need parts to repair a school bus
roof hatch, we can help you!
We have Transpec and Specialty Mfg
roof hatch parts and complete replacement
hatches that fit all makes.
Our database is filled with part numbers and information that can quickly help you get your bus back on the route.
Also, many of the older buses have hatches that are obsolete, therefore; we can recommend replacement assemblies that are easy to install, and we can save you lots of time by giving you installation advice that'll make
the job simple.
Call us toll-free at 800/960-1960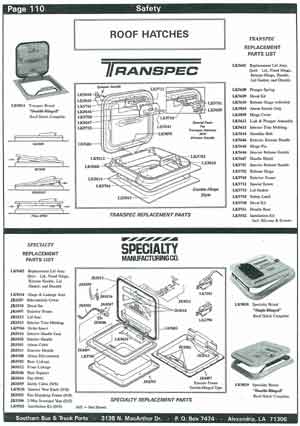 Roof Hatches
Catalog Page
Click here to enlarge
Part No. LK6867

Emergency Exit
5-Position Ventilation
Outside Release Handle
Alarm Switch
Click here for Parts List
For Buses With Curved Roof
Part No. LK2115

Emergency Exit
5-Position Ventilation
Outside Release Handle
Alarm Switch
Click here for Parts List
For Buses With Flat Roof
Part No. JK1859

Emergency Exit
5-Position Ventilation
Outside Release Handle
Alarm Switch
Static Air Vent
Fits Nearly Flush with Roof
Click here for Parts List
Additional Info on Roof Hatches
Click on any of the following links

Specialty

Transpec
Call us toll-free at 800/960-1960