Roof Hatch Parts for School Buses


Looking for a Roof Hatch parts for a school bus? We can help!
Click here if you have a Specialty model roof hatch
Click here if you have a Transpec model roof hatch
The following catalog page will help you find the parts you need to get your bus back
on the road again.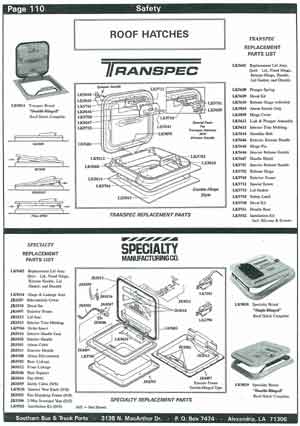 Roof Hatch Parts
Catalog Page
Click here to enlarge
To better assist you, please have the following information when you call:
1. Year and model of bus
2. Description of part needed
3. Model of roof hatch on bus (Transpec or Specialty)
4. Any part numbers you may have
If you are needing a release hinge, the conversion kit pictured below should get you out of trouble. If the kit doesn't work, then you
must install a new roof hatch.


Release Hinge Conversion Kit for Transpec Roof Hatches. Part No. JK3619
Roof Hatches We Offer
Part No. LK6867

Emergency Exit
5-Position Ventilation
Outside Release Handle
Alarm Switch
For Buses With Curved Roof
Part No. LK2115

Emergency Exit
5-Position Ventilation
Outside Release Handle
Alarm Switch
For Buses With Flat Roof
Part No. JK1859

Emergency Exit
5-Position Ventilation
Outside Release Handle
Alarm Switch
Static Air Vent
Fits Nearly Flush with Roof
Call us toll-free at 800/960-1960