Fuel Tank Caps for School Buses

Looking for a Fuel Tank Cap for a School Bus? We can help you!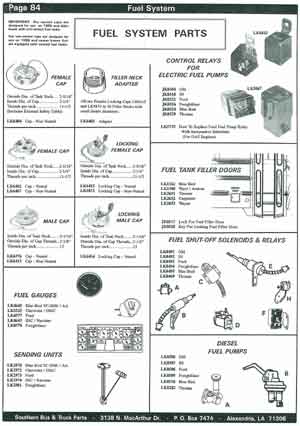 Fuel Tank Caps
Catalog Page
Click here to enlarge
To better assist you, please have the following information when you call:
1. Year model bus
2. Bus chassis - IH, Ford, Freightliner, Vision, GMC, Chevrolet, etc.
3. Type of engine
4. Any part numbers you may have
5. Last (8) digits of the VIN number
Vintage School Bus Fuel Tank Caps
Brass, Male, Locking, Vented Fuel Tank Cap with 2-1/8" OD threads. Fits female fuel tank spouts with 2" ID thread size. For 1985 & older buses with un-vented tanks. Part No. LK6414
Brass, Female, Un-Vented Fuel Tank Cap with 2-1/4" ID threads. Fits male fuel tank spouts with 2-3/8" OD thread size. For 1986 & newer buses with vented tanks. Part No. LK6407
Brass, Male, Vented Fuel Tank Cap with 2-1/8" OD threads. Fits female fuel tank spouts with 2" ID thread size. For 1985 & older buses with un-vented fuel tanks. Part No. LK6376
Brass, Female, Non-Locking fuel tank cap with 2-3/8" ID threads. Fits male fuel tank spout with 2-1/2" OD thread size. This cap is for Frieghtliners only with tanks mounted on the right side. Part No. JK2091
Click here for fuel main page

Click here for product index page

Call us toll-free at 800/960-1960