Vacuum Stop Arms for School Buses

Looking for vacuum stop arm parts for a School Bus? We can help! Just follow
the red arrows!

Specialty no longer manufacturers the whole assembly, but we might be able to help you with some of the parts.

The following catalog page have the parts and their part numbers that might get your vacuum stop arm working again. When you call, please provide us the part along with the part number you are needing help with so we may help you more efficiently. An updated parts list is below the page.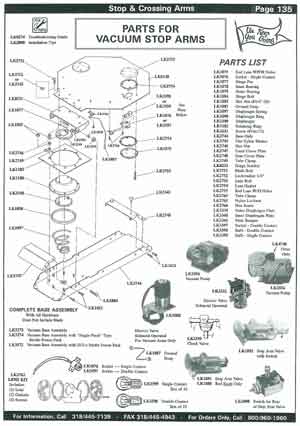 Click here to enlarge
LK1075 - Lens w/ holes
LK1077- Center Pin
LK1078 - Inner Bearing
LK1079 - Outer Bearing
LK1084 - Hinge Bolt
LK1085 - Hex Nut
LK1087 - Ground Wire Assy
LK1097 - Diaphragm Spring
LK1098 - Inner Retaining Ring
LK1024 - Diaphragm Assembly (with plate)
LK1102 - Diaphragm Retainer Ring
LK1621 - Sheet Metal Screw
LK2747 - Front Cover Plate
LK2748 - Rear Cover Plate
LK2750 - Hinge Plate Bracket
LK2751 - Blade Bolt
LK2753 - Lens Bolt
LK2762 - Red Lens Kit
LK2755 - Red Lens w/o holes
LK2765 - Locking Nut
LK3339 - Outer Diaphragm Plate
LK3340 - Inner Diaphragm Plate
LK3341 - Rubber Bumper
LK3597 - Dbl Contact Socket & Pigtail
LK3598 - Dbl Contact Bulb

Click here for stop arms main page

Click here for product index page
Call us toll-free at 800/960-1960