Rear View Mirrors for School Buses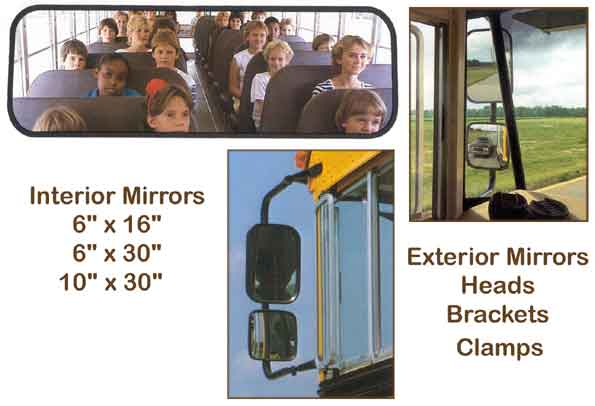 Looking for a Rear View Mirror for a school bus? With the following information
we can help!
1. Year and model of bus
2. Description of mirror needed
3. Any part numbers you may have
4. Pictures of mirror head (front & back) and how it is mounted on the bus
5. Last 8 of the vin number
The following catalog pages will help you find the part you need to get your bus back
on the road again. Just click a page!


Exterior Mirrors 1
Catalog Page
Click here to enlarge
Exterior Mirrors 2
Catalog Page
Click here to enlarge
Mirror Brackets & Clamps
Catalog Page
Click here to enlarge
More Info on Mirror Parts

Click on any of the following links:

Mirrors - Main Page

Brackets & Clamps

Crossing Mirrors

Rear View Mirrors

Sun Visors

Click here for product index page
Call us toll-free at 800/960-1960