Brake Rotors for Buses and Trucks

"U" Type "Hat" Type



How to Identify What Rotors You Have
Step One
The first step is to identify what rotors you have on your bus or truck, and the following catalog page will help you to figure that out. Once you have figured it out,
then scroll down for step two.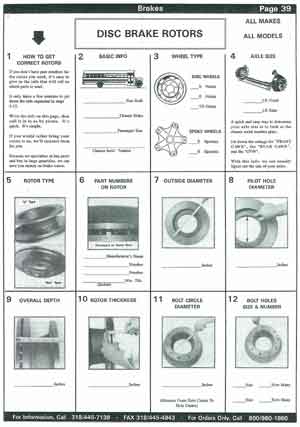 Step Two


Now that you have identified your rotors, go through the following catalog pages, find your chassis, and it will have a part number. When you call us, please provide us that part number along with the oem part number if you have it, the chassis make, the year it was manufactured, and the last 8 of the VIN, so that we may be able to help you more efficiently.
Blue Bird TC-2000
Front and Rear
1988 & Newer
Catalog Page
Click here to enlarge
Chevy Front & Rear
2.50 Twin Piston
1983 - 91
Catalog Page
Click here to enlarge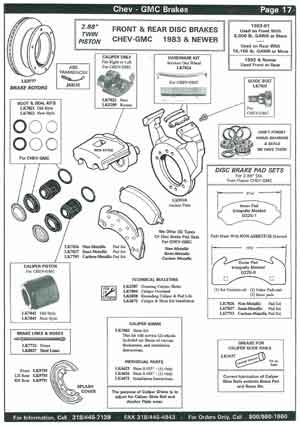 Chevy Front & Rear
2.88 Twin Piston
1983 & Newer
Catalog Page
Click here to enlarge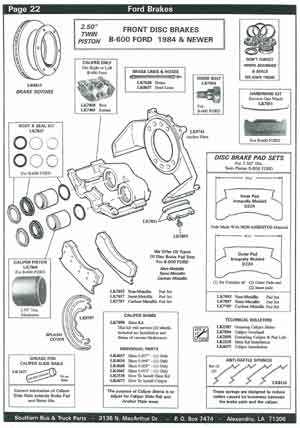 Ford B-600 Front
2.50 Twin Piston
1984 & Newer
Catalog Page
Click here to enlarge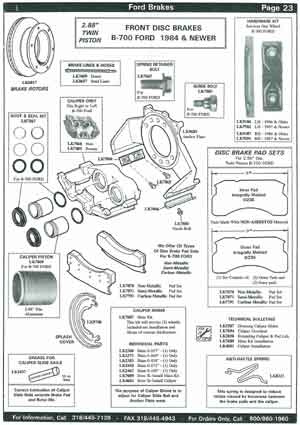 Ford B-700 Front
2.88 Twin Piston
1984 & Newer
Catalog Page
Click here to enlarge
GMC Front & Rear
2.50 Twin Piston
1983 - 91
Catalog Page
Click here to enlarge
GMC Front & Rear
2.88 Twin Piston
1983 & Newer
Catalog Page
Click here to enlarge
IHC- Navistar
Front & Rear
2.60 Twin Piston
1982 - 12/97
Catalog Page
Click here to enlarge
IHC- Navistar
Front & Rear
2.88 Twin Piston
1982 - 12/97
Catalog Page
Click here to enlarge
IHC- Navistar
Front & Rear
66mm Twin Piston
1/98 & Newer
Catalog Page
Click here to enlarge
IHC- Navistar
Front & Rear
73mm Twin Piston
1/98 & Newer
Catalog Page
Click here to enlarge
Click here for main brake page

Click here for product index page
Call us toll-free at 800/960-1960