School Bus Brake Drums


Looking for Brake Drums for a school bus chassis? We can help!

The following catalog page will help you find the drums you need and get your bus back on the road again. Just click on the page and
fill in the blanks!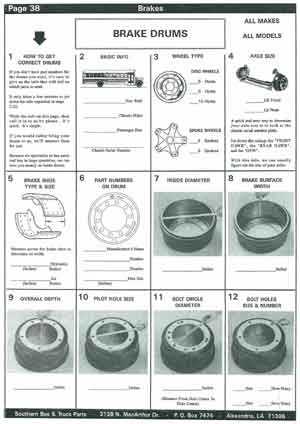 Brake Drums
Catalog Page
Click here to enlarge
To better assist you with the brake drums, please have the following information
when you call:
1. Bus chassis - IH, Ford, Freightliner, Vision, GMC, Chevrolet, etc.
2. Year model of bus
3. Brake system type....Hydraulic ...or...Air
4. Part description....where it is....what it does
5. Part number if you have it
6. Last (8) digits of the VIN number if you have it
Hydraulic Brake Drums

GM ---------- Front 14 x 2-1/2
GM ---------- Front 15 x 3
GM ---------- Rear, 15 x 4, 5
Ford -------- Front 14 x 2-1/2
Ford -------- Front 15 x 3
Ford -------- Rear 15 x 5, 15 x 6, 15 x 7
IH ------------ Front 14 x 2-1/2, 15 x 3, 15 x 3-1/2, 15 x 5
IH ------------ Rear 15 x 5, 15 x 6, 15 x 7
Air Brake Drums
More Info on Brakes
Click on any of the following links

Brakes - Main Page

Air Brakes

Air Compressors

Calipers

Hydraulic

Master Cylinders

Pads

Parking

Rotors



Blue Bird

Chevrolet

Ford

Freightliner

GMC

IH

Thomas

Vision
Call us toll-free at 800/960-1960