Bumpers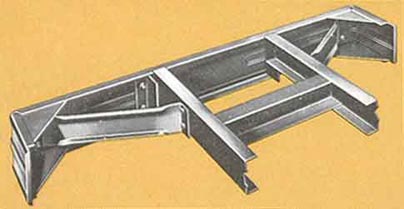 Need a Bumper for a school bus?
We can provide chassis front bumpers or body rear bumpers along with brackets
if you need them.
Because we reconditioned thousands of school buses over a 40-year period, we know the problems you face when trying to replace a front or rear bumper.
Our database is filled with part numbers and information covering the parts you need. We can even furnish bumpers for buses built by companies that have long since gone out of business.
Here's the info we need to make sure
you get the correct bumper part:
1. Bus - Year, Model, and passenger capacity
2. Bus chassis- IH, Ford, Freightliner, Vision, GMC, Chevrolet, etc.
3. Body make - Blue Bird, Amtran, Carpenter, Thomas, Wayne, etc.
4. Body type - conventional, flat nose transit, van, etc.
5. Bumper part description - where it's mounted, front or rear?
6. Any part numbers you may have
7. Last (8) digits of the VIN number
Call us toll-free at 800/960-1960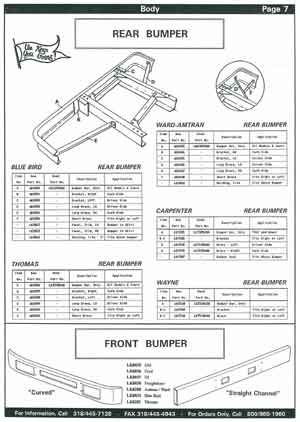 Bumpers
Catalog Page
Click here to enlarge.
Rear Bumpers
Front Bumpers
Brackets
Trim Parts
Additional Info on Body Parts
Click on any of the following links


Call us toll-free at 800/960-1960