School Bus Filter-Driers


Looking for a filter drier for a school bus air conditioner? With the following information we can help you!
1. Manufacturer of Air Conditioning System
2. Overall length of filter drier needed (chart below)
3. Any part numbers you may have
4. Type of fitting the filter drier has (chart below)

The following catalog page can help you find the filter drier you need to get the air conditioning running properly again.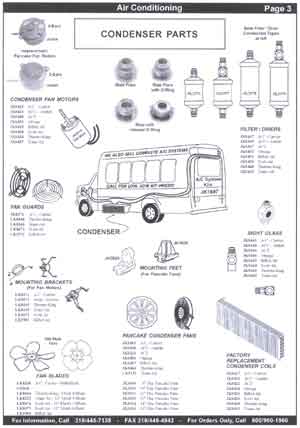 Click here to enlarge.
How To Identify What Filter Drier You Need
Note that there are (2) types of "Flare" fittings. the one shown at right comes with a tiny O-Ring that fits in a groove on the flare.....and this type can be used in place of the plain flare shown at left.
There are (2) types of "Internal O-Ring" fittings. It helps if we know if the drier you need has the LH or the RH version.
Note: The Internal O-Ring Drier on the right is commonly used with Thermo-King systems.

---
It also helps us identify the Filter-Drier you need if you can tell us what your old part looks like. The following diagram will help.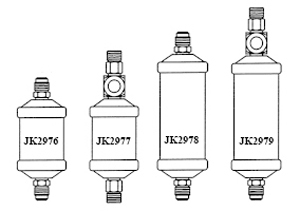 JK0447 A/C Carrier
JK0349 ACC - Amfab
JK0347 ACT
JK0452 Omega
JK0451 Rifled Air
JK0450 Scott Air
JK0448 Thermo-King
JK0449 Trans-Air
More Info on Air Conditioning
Click on any of the following links:

A/C - Main Page

Compressors

Condenser

Controls

Evaporator Blowers

Evaporator Parts

Pancake Condenser Fans

Click here for product index page
Call us toll-free at 800/960-1960