A/C Filter-Driers


Need a Filter-Drier for a school bus?
We stock all of the Filter-Driers used by the major manufacturers and we can help you.
Following is the info we need to make sure
you get the correct Filter-Drier:
1. A/C brand (Carrier, Trans/Air, ACC, Thermo-King, etc)
2. Approximate year the A/C was installed
3. Any numbers or words found on the old Drier
4. Overall length of the old Drier (see diagram below)
5. Whether it has a sight-glass or not
6. Type of fittings on the old Drier (see diagram below)
---
Note that there are (2) types of "Flare" fittings. the one shown at right comes with a tiny O-Ring that fits in a groove on the flare.....and this type can be used in place of the plain flare shown at left.
There are (2) types of "Internal O-Ring" fittings. It helps if we know if the drier you need has the LH or the RH version.
Note: The Internal O-Ring Drier on the right is commonly used with Thermo-King systems.


---
It also helps us identify the Filter-Drier you need if you can tell us what your old part looks like. The following diagram will help.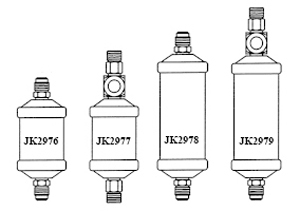 JK0447 A/C Carrier
JK0349 ACC - Amfab
JK0347 ACT
JK0452 Omega
JK0451 Rifled Air
JK0450 Scott Air
JK0448 Thermo-King
JK0449 Trans-Air
Click here to enlarge image
---
Call us toll-free at 800/960-1960
Filter Driers
Catalog Page
Click here to enlarge.
Click here for troubleshoot videos
Additional Info on Air Conditioning
Click on any of the following links

A/C - Main Page

Compressors

Condenser

Controls

Evaporator Blowers

Evaporator Parts

Pancake Condenser Fans
Troubleshoot Videos

Call us toll-free at 800/960-1960