School Bus Wiper Linkage
Looking for Wiper Linkage Parts for a School Bus? With the following information
we can help!
1. Year model of bus, and passenger capacity
2. Bus chassis - IH, Ford, Freightliner, Vision, GMC, Chevrolet, etc.
3. Body type - conventional, flat nose transit, van, etc.
4. Description of the wiper part, what part "does"
5. Any part numbers you may have
6. Last (8) digits of the VIN number, and body number, if possible


The following catalog pages will help you find the information you need to get your wipers working again. Just click a page!

Linkage Page One
Catalog Page
Click here to enlarge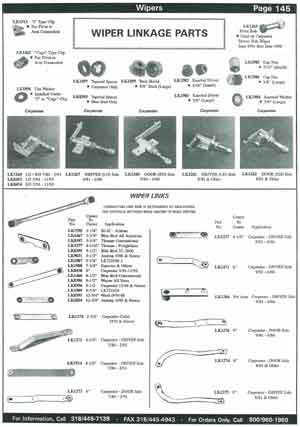 Linkage Page Two
Catalog Page
Click here to enlarge
Vintage Linkage Parts We Have In Stock
Part No. JK2173 (1)
This pivot shaft is for a Genesis flatnose bus. It has splines on its shaft and doesn't require a knurled driver. The drive pin is 0.375" in diameter and points forward.
Diameter of Housing - 0.680"
Housing Length (measured like we do on our catalog page) - 1-1/2"
Inner Shaft Diameter - 0.375" (3/8")
Center of Drive Pin to Center of Shaft - 1.645" (42mm)
The housing has (2) un-threaded mounting holes.
Click here for main wiper page
Click here for product index page
Call us toll-free at 800/960-1960