Fuel System Parts for School Buses

Looking for replacement parts for a fuel tank on a school bus? Gerald and Jenn can help! Just follow the red arrows!
Click here for older fuel system relays and solenoids

The following catalog page has parts along with their part numbers that may help you with your fuel tank parts. When you call us, please provide the part number along with the chassis make and year, the last 8 of the VIN, and any other info that may
help us more efficiently.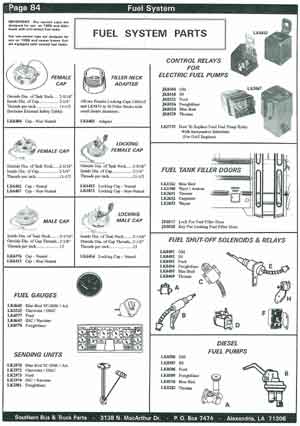 Fuel System Parts
Control Relays
Filler Doors
Sending Units
Shut-Off Relays
Shut-Off Solenoids
Tank Caps
Click here for catalog page
Vintage Fuel System Relays & Solenoids
Fuel Shut-Off Solenoid


Fuel Shut-Off Solenoid for GM School Bus Chassis. 8.2 Diesel Engines.
All years. Part No. LK3290 (1 in stock)


Fuel Pump Relay




Fuel Pump Relay for 1980 & Newer Ford B-600 & B-700 Gas Engines.
It has 5 blades. Part No. LK5067 (1 in stock)


Click here for fuel tank caps
Click here for fuel tank sending units
Click here for product index page
Call us toll-free at 800/960-1960