Thomas School Bus Parts

Looking for parts for a Thomas body
school bus? We can help!
The following links will help you find the parts you need. Just click a category.

More Info About Thomas
Thomas began building Type C conventional buses in the 1930's.
These bodies have been mounted primarily on GM, Ford, International, and Freightliner chassis.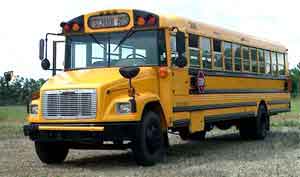 In about 1998, Thomas was sold to the Freightliner Division of Daimler Benz and began mounting the Type C conventional body only on the model FS-65 chassis.
The old style body was phased out in about 2005 and replaced by the totally redesigned C2.
Thomas began producing the C2 conventional in about 2004 in a new facility designed specifically to build that design.
Production of the old style body slowly diminished as the new style C2 production was ramped up.
For decades, Thomas built transit style Type D buses on a variety of chassis including International, Hendrickson, and others.
In 1977, a new chassis factory was created so that Thomas could build its own Type D chassis.
In the late 1970's, Thomas designed a Type B school bus body for mounting on the GM Step-Van chassis.
Called the MightyMite, it was originally built with a narrow 84" width and was later developed into a full width 96" vehicle.
When GM sold the Step-Van chassis product to another manufacturer, Thomas phased out its MightyMite production.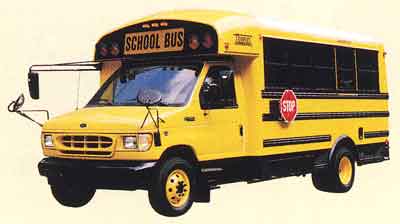 In 1980, Thomas introduced a Type-A bus called the Minotour.
Produced primarily on Ford and GM chassis, this small bus remains popular today.
Click here for product index page
Call us toll-free at 800/960-1960