School Bus Transmission Parts
Looking for Automatic Transmission parts for a School Bus? We don't provide the transmission, but we can help you with some of the parts. Just provide the following information when you call.
1. Bus chassis - IH, Ford, Freightliner, Vision, GMC, Chevrolet, etc.
2. Year model of bus
3. Type of Engine
4. Type of Transmission
5. Part number if you have it
6. Last (8) digits of the VIN number if you have it

The following catalog pages will help you find the transmission part you need to get your bus back on the road again.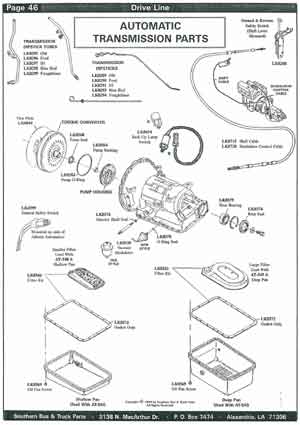 Dipsticks & Tubes
Catalog Page
Click here to enlarge
Modulator Cable
Catalog Page
Click here to enlarge
Flex Plate & Seal (Torque Converter)
Catalog Page
Click here to enlarge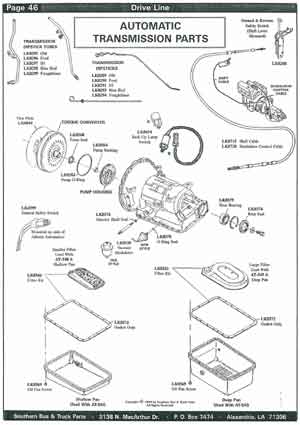 Back-Up Lamp Switch
Catalog Page
Click here to enlarge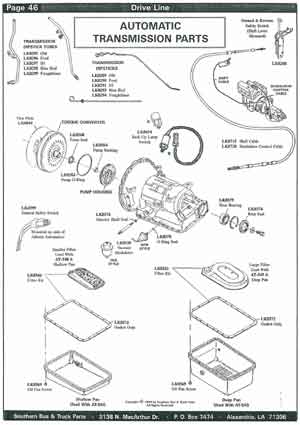 Neutral Safety Switch
Catalog Page
Click here to enlarge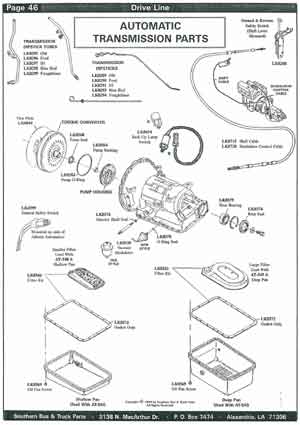 Oil Pan
Catalog Page
Click here to enlarge
Bearings & Seals
Catalog Page
Click here to enlarge
Click here for product index page
Call us toll-free at 800/960-1960