Brackets and Clamps for
School Bus Mirrors

Looking for mirror brackets for a bus? We can help! Just follow the red arrows!
Click here for mirror bracket kits

The following are our catalog pages of different mirror brackets and clamps and their matching part numbers. Some of the parts have been discontinued and
replaced by another brand.
When you call us, please provide us with the part number, type of mirror and
bus body manufacturer so we may help you more efficiently.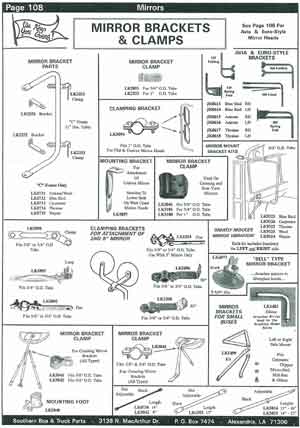 Mounting Feet
Brackets
Clamps
Tubes
Click here to enlarge
Adjustable Tripod Bracket Kit
Adjustable Support Arms
Angle Type Bracket Base
Bell Type Bracket Base
Bracket Clamp
Click here to enlarge
High Def Mirror Bracket Kit for 2005 & newer IH/IC, is a visor mount, LH and RH.
Part No. JK4343 (1)
Hawk-Eye Mirror Bracket Kit for 1990 & newer IH 3000, LH and RH Part No. LK5118 (1)
Bus Boy Mirror Bracket Kit for 2000-04 IH/IC, LH and RH Part No. LK7472 (1)
Bus Boy Mirror Bracket Kit for vans and mini-buses Part No. LK9031 (1)
Bus Boy Mirror Bracket Kit for 1992 & newer Kodiak model Bluebird/GM, LH and RH
Part No. LK9032 (2)
Click here for mirrors main page

Click here for product index page
Call us toll-free at 800/960-1960