School Bus 8-Lamp Flashers

Looking for an 8-Lamp Flasher for a School Bus? With the following information
we can help!
1. Year and model of bus
2. Part number of flasher needed
3. A picture of flasher to email to us
4. Last (8) digits of the VIN number
The following catalog pages will help you find the flasher you need to get your bus back on the road again. Just click a page!




Flashers
Catalog Page

Click here to enlarge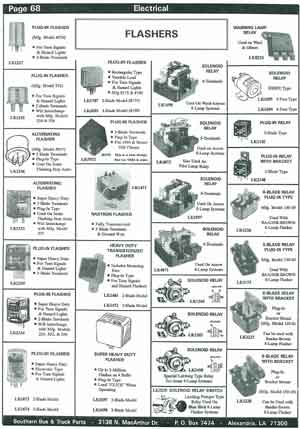 Flashers
Relays
Solenoids
Catalog Page


Click here to enlarge
Relay Tester
Relay Tester for 5-Blade Relays used by Aeroflash, ELS, RAC, Specialty, and certain air conditioners. Part No. LK1691

Troubleshoot Videos for Common Flashers
Weldon 7000 8-Lamp Flasher