School Bus Entrance Door Parts
Looking for School Bus Entrance Door Parts? We don't provide the door, but we can help with the parts! Just provide us with the following information when you call.
1.Year and Model of bus
2. Any part numbers you may have
3. Part description, function and location
4. What type of Doors: In/Out, Out/Out, or Jacknife
5. Last (8) digits of the VIN number
The following catalog pages will help you find the entrance door part you need, and get your bus back on the road again!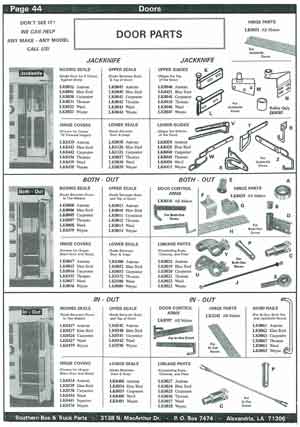 Entrance Door Parts
Catalog Page
Click here to enlarge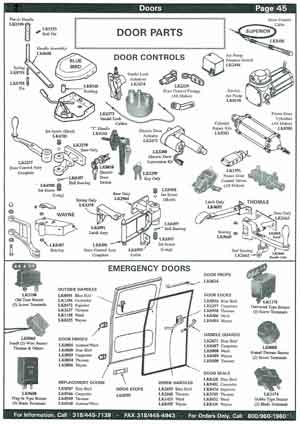 Entrance Door Controls
Catalog Page
Click here to enlarge
School Bus Door Nosings
Part No. LK3689
Blue Bird
Jackknife Door
(1 in stock)
Part No. LK8464
Blue Bird
In-Out Door
(Front Leaf)
(2 in stock)
Part No. LK8416
Ward
Jackknife Door
(obsolete)
(1 in stock)
More Info on Door Parts
Click on any of the following links:


Click here for product index page
Call us toll-free at 800/960-1960