Crossing Arm Parts for a
Bluebird Flatnose Bus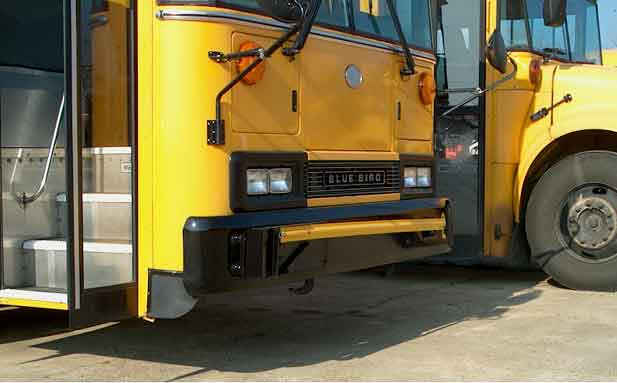 Looking for Crossing Arm Parts for a Blue Bird TC-2000 or an All- American school bus? We can help! Just follow the red arrows!

There are 4 questions that need answering when it comes to figuring out your correct crossing arm assembly.
1. Is your crossing arm assembly air-operated or electric?
2. Is your crossing arm base assembly mounted behind or in front of bumper?
3. What series crossing arm assembly do you have... 5, 6, 7 or 8?
4. Is your Bluebird a TC-2000 or an All-American?
Once we have all of the above information, it will be easier to figure out what
parts you need.

The following information provides part numbers for the different crossing arm assemblies that are available on a TC-2000 and the All-American. When you call us, please provide the part number you are needing help with, the series crossing arm you have, and bus type, so we may be able to help you more efficiently.
Air-Operated Crossing Arm Assemblies
TC-2000 - Part No. JK4302
All-American - Part No. JK4305
Electric Crossing Arm Assemblies
TC-2000 - Part No. JK4306
All-American - Part No. JK4309
Click here for crossing arms main page
Click here for product index page
Call us toll-free at 800/960-1960