Engine Water Pumps for
Buses and Trucks
Need a water pump for your bus chassis or truck? Gerald and Jenn can help! Just follow the red arrows!

Most of the old buses and trucks have water pumps that are no longer available.

But, we have a top notch rebuilder who can get them back into commission.
Click here if your water pump needs to be rebuilt
Click here for photos of water pumps for older buses/trucks
The following catalog page has parts along with their part numbers that will help you to identify your water pump. When you call us, please provide the part number along with the chassis make, the year it was manufactured, engine type, engine number, and the last 8 of the VIN, so that we may be able to help you more efficiently.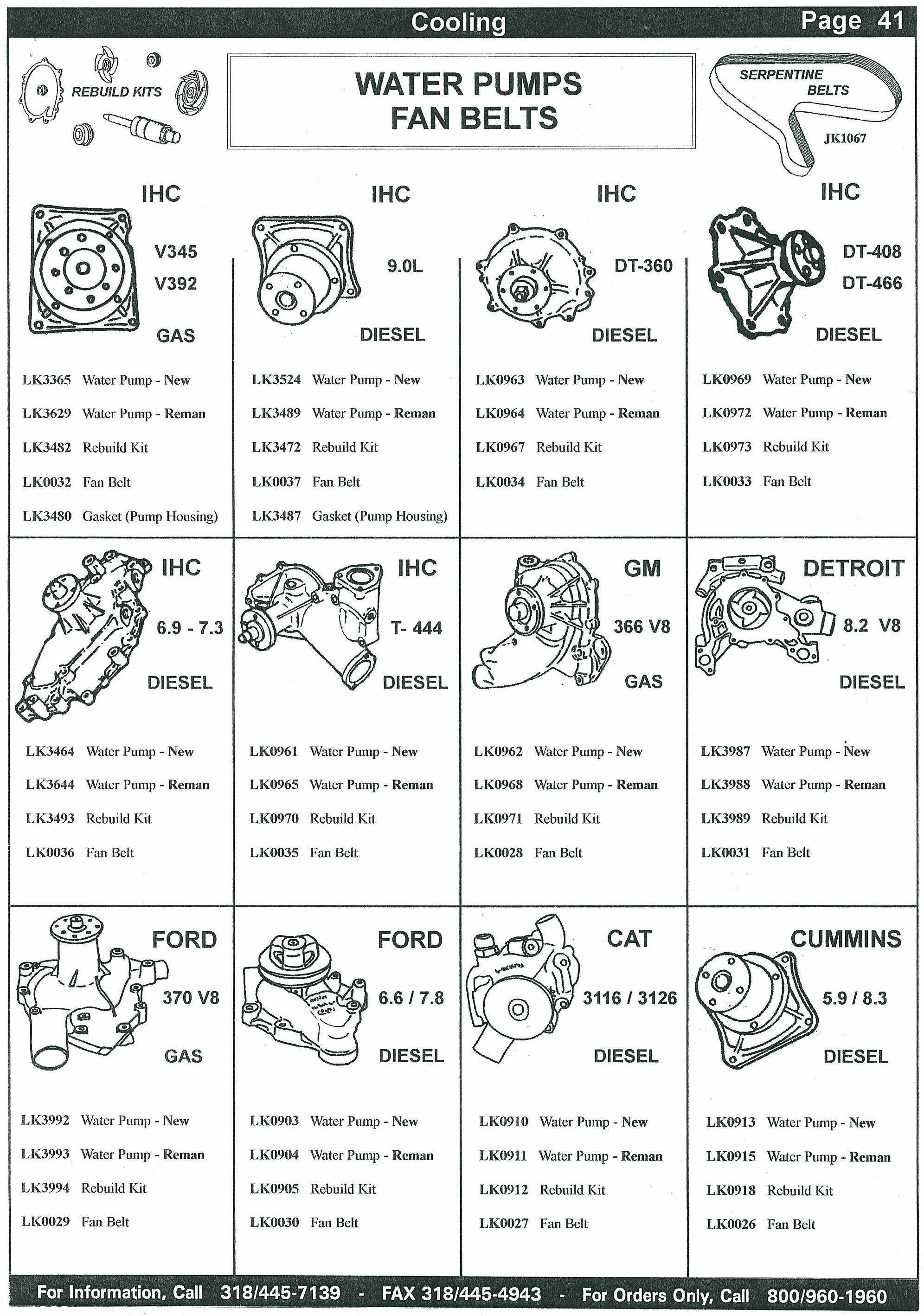 Click here to enlarge
If Your Water Pump Needs to be Rebuilt
1. Call us so we can identify which water pump you have.
2. Once identified, we will look to see if we have a reman already in stock.
3. If we have a reman, we will send it to you, and you will send to us the water
pump that needs to be rebuilt. Included on your invoice will be a core charge.
4. If we receive your core within 30 days of the date on the invoice AND the core
is not damaged and CAN be rebuilt, then you will receive a core refund.
5. If we do not have one in stock, then you will just send us yours, we will send
it to our rebuilder, and then return it to you once we have received it.
6. Our warehouse address can be found on our Contact Us page.
Water Pumps We Have in Stock

Part No. JK1617
Reman Water Pump for CAT 3126/C7 with 3-3/4" diameter pulley for V-Belt.
Part No. LK3644
Reman Water Pump for IH 6.9L, IH 7.3L, MV-404 and MV-466.
Part No. LK3660
Reman Water Pump for IH DT-360 or IH DT-466. This is the first design.
Part No. LK3821
Reman Water Pump for IH T444E with right hand lower hose intake. This pump was used by IH on T444 engines built after 10/7/94. Look for the casting number
on the front of water pump.
Part No. LK3822
Reman Water Pump for GM/CAT 3116 Engines with a 4-1/2" pulley and is belt driven.
Part No. LK3823
Reman Water Pump for DT 360/466 IH Engines and is second design. It has screw-on fan drive; the fan hub is 1" thick and the threads are left-handed.
Part No. LK3982
Reman Water Pump for GM 366 Engines for 1973-91. It measures 17" long from end to end. Hose connection is for a 2-1/4" ID hose. There is a threaded port near the shaft and a threaded port down at the bottom. There are also three (3) opening where the pump bolts up to the block. (Seals furnished.)
Part No. LK3988
Reman Water Pump for 8.2 Detroit diesel engines; it is the 2nd design with
a heater bypass.
Part No. LK4724
Reman Water Pump for Bluebird TC-2000 and Ford buses with a 5.9 Cummins engine. This pump has a long neck and a pulley without a lip. The casting number is on the inside of the pump.
Part No. LK9837
New Water Pump for IH DT408-466 engines for 1994 & Newer buses. This is the 3rd design and fits NGD models.
Part No. LK9838
Reman Water Pump for the New IH DT408-466 engines above.
Click here for cooling main page
Click here for product index page

Return to Top
Call us toll-free at 800/960-1960