School Bus Air Brake Parts



Looking for Air Brake Parts for a school bus chassis? With the following information
we can help!
1. Bus chassis - IH, Ford, Freightliner, Vision, GMC, Chevrolet, etc.
2. Year model of bus
3. Any number off of the air brake part you need to replace
4. Last (8) digits of the VIN number
5. On Brake Shoes we need to know the depth of the notches (shallow or deep)


The following catalog pages will help you find the parts you need and get your bus back on the road again. Just click a page!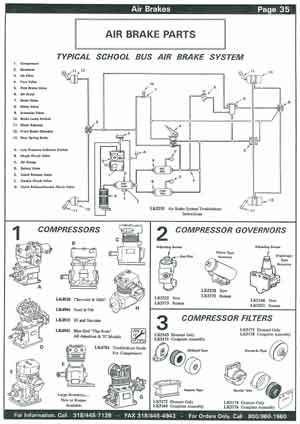 Air Brake Compressors
Catalog Page
Click here to enlarge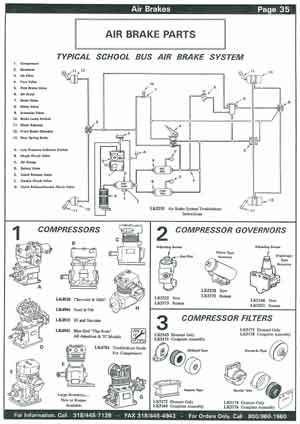 Governors
Catalog Page
Click here to enlarge
Filters
Catalog Page
Click here to enlarge


Air Brake
Valves
Catalog Page
Click here to enlarge
Camshafts & Chambers
Catalog Page
Click here to enlarge
Brake Hoses
Catalog Page
Click here to enlarge
ABS Modulators & Control Modules
Catalog Page
Click here to enlarge
Brake Drums & Shoes
Catalog Page
Click here to enlarge
Brake Lamp Switches
Catalog Page
Click here to enlarge
Bushing Kits &
Hardware Kits
Catalog Page
Click here to enlarge
More Info on Brakes
Click on any of the following links:

Brakes - Main Page

Boosters

Calipers

Drums

Hydraulic

Master Cylinders

Pads

Parking

Rotors
Click here for product index page
Call us toll-free at 800/960-1960